Husband watches wife take it
The hubby hired these black guys to help him paint the room but instead they're just gang fucking his wife. He's forced to watch as her shaved pussy is filled with the ebony meat over and over again. He even has to lick her pussy when the black guy pulls out.
Blink
Del.icio.us
Digg
Furl
Google
Simpy
Spurl
Y! MyWeb
Cuckold Sessions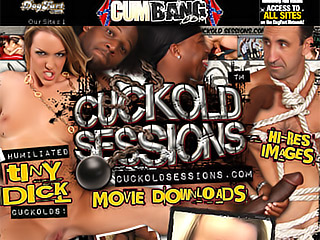 Cuckold Sessions is wear these white girls go for real men. Their husbands often have small dicks (some as small as 4 inches) and they want something different, and that is exactly what they get! These adulterous wives love black cocks, and they want to show their husband exactly what they want. As the brotha's tie up the wives husband or simply hold them back, these kinky white girls get their day in heaven as they take on not one, but multiple huge black cocks!
CHECK MORE FREE PORN SITES: