Sissy boy in bondage
The ladies have succeeded in making over this man into a sissy slut. He's wearing a wig, a satin blouse, a bra, a thong and stockings. He is their sissy slut and now they're taking it to the next level by putting him in bondage and abusing him. They want to know that he's experiencing pain.
Blink
Del.icio.us
Digg
Furl
Google
Simpy
Spurl
Y! MyWeb
Tyrannized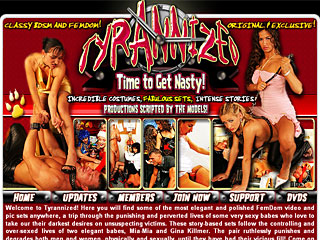 Tyrannized is a slightly different take on the female domination site. Here they have the dominant babes dressed in elegant, sexy clothes that most often resemble business outfits. There's a lot of satin and silk and the action is irresistibly arousing for fans of both the femdom and satin fetishes.
CHECK MORE FREE PORN SITES: