Students torture teacher
The two young chicks have one of their male teachers tied up and they're having fun with him. They squirt some sort of gel all over his body to make him sticky and then one of the girls pulls out a dildo and ends up stuffing it into his asshole. He probably wasn't expecting that when he woke up.
Blink
Del.icio.us
Digg
Furl
Google
Simpy
Spurl
Y! MyWeb
Tyrannized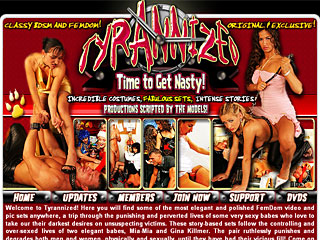 Tyrannized is a slightly different take on the female domination site. Here they have the dominant babes dressed in elegant, sexy clothes that most often resemble business outfits. There's a lot of satin and silk and the action is irresistibly arousing for fans of both the femdom and satin fetishes.
CHECK MORE FREE PORN SITES: