The biggest cock in the world
This dick shouldn't even be described as big. It's more like a huge cock or a gargantuan cock as it fucks into her wet pussy of the redhead. She is on her knees with her head buried in the pillows and the schlong is pumping her from behind and pumping her hard. It's beautiful stuff.
Blink
Del.icio.us
Digg
Furl
Google
Simpy
Spurl
Y! MyWeb
Freaks Of Cock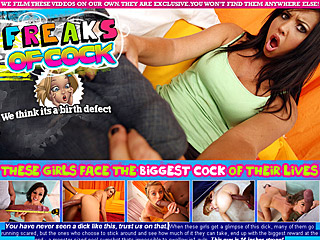 You have never seen a dick like this, trust us on that. When these girls get a glimpse of this dick, many of them go running scared, but the ones who choose to stick around and see how much of it they can take, end up with the biggest reward at the end - a monster sized pool cumshot thats impossible to swallow! This guy is 14 inches strong!
CHECK MORE FREE PORN SITES: