Two dommes abuse a slave
The slave boy is wearing a leather hood and there's a chain around his neck. There's a leather clad mistress dominating him at the start and a second chick will enter to have some fun a little later. It looks like one of the babes is buying him to bring him home for some fun.
Blink
Del.icio.us
Digg
Furl
Google
Simpy
Spurl
Y! MyWeb
Tyrannized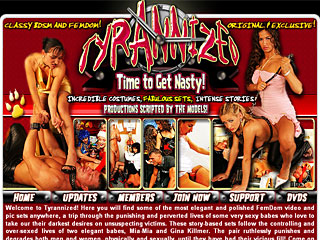 Tyrannized is a slightly different take on the female domination site. Here they have the dominant babes dressed in elegant, sexy clothes that most often resemble business outfits. There's a lot of satin and silk and the action is irresistibly arousing for fans of both the femdom and satin fetishes.
CHECK MORE FREE PORN SITES: